About Us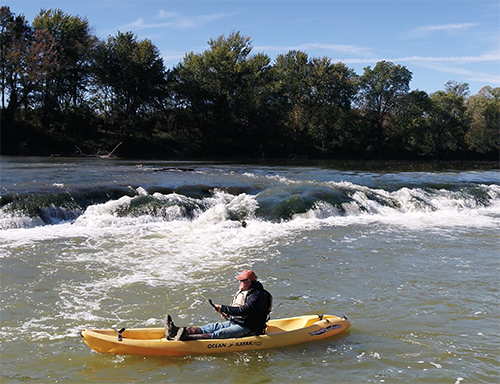 My name is Steve Chafin and I am the owner of Pathfinder Outfitters. I grew up in southern Indiana near Lake Monroe, Hoosier National Forest, Yellowwood State Forest, and Morgan Monroe State Forest. I had woods and creeks right out my back door, and explored them thoroughly. My father had a boat rental on Lake Monroe when the lake first opened in 1968. So, every day in the summer when Dad and I picked up boats, I got to fish Lake Monroe. I was hooked. I loved the outdoors. At age 13 I bought my first canoe. It was a 15′ aluminum battleship. I then bought a 13′ Coleman canoe that I have to this day. Then, my first vehicle was a 1964 Jeep CJ5. There were no trails or streams unexplored in southern Indiana by me with that Jeep and my canoe. 
This love for the outdoors led me to a career in the environmental science field where I spent 10 years working as a consultant on lake and river restoration projects and working to solve environmental problems of all types. After 10 years of that, in 1998, I turned to start a business called Eco-Systems, Inc. that specialized in the actual hands on restoration of lakes, ponds, streams, wetlands, performing native prairie restorations, and forest enhancement projects, as well as wildlife habitat enhancement, storm water quality control, and erosion control.
In the course of this work I found my self working for the federal government as a contractor on projects in Florida, Wyoming, Montana, and New Mexico. The Lord blessed me with putting me down to work on projects in spectacular places full of wildlife. In the process, while working or hiking or hunting in these remote places, He spoke to me loud and clear. In wild places, without distractions, the Lord gives me clear instruction for my future, and clearly shows me the issues that I need to resolve in my relationships and stewardship of what he has provided. So my forays into the wild places became primarily a pilgrimage to hear from the Lord and secondarily to hunt, fish, and explore seeking high adventure along the way.
In September 2007, I took an excursion with a good friend and colleague to SW Wyoming to "bird hunt and antelope hunt" for a couple of weeks. These were our stated objectives. However, my main objective was to seek the Lord intensively on what He would have me do with the remainder of my life. After studying, praying, meditating for a few days in the mountains, on the fourth day, sitting around the campfire he answered me. My new mission was to enable individuals and groups of people to experience what I had experienced. Not just the adventure travel and outdoor experience, but more importantly to hear from the Lord; to offer ourselves up to His examination and instruction; to be cleansed and enlightened; to correct bad habits and faulty thinking; to come out of the wilderness with a purpose, a God given purpose, for our lives and to restore and improve our relationships.
When we offer ourselves up to Him to be changed, we suddenly have power and energy to have a positive impact on the people and environment around us. So, every time I have retreated to the wilderness to seek the Lord, guess what, He was there, He found me, and changed me. And I want the same for you! So Pathfinder Outfitters for life changing adventure experiences. You will not be disappointed.
We MUST get out of our busy-ness routines to hear from Him on what His mission, purpose, and assignments for our lives actually are. Otherwise, life is frustrating, less than fruitful, stressful, and unfulfilled. I want our adventurers to get purpose, mission, right relationships, get fulfilled, and bear fruit!
Call me at 812-340-0700 or email at info@pathfinderoutdoors.com.
Now, lets get out there and give 'em Heaven,
Maranatha! Steve