About Us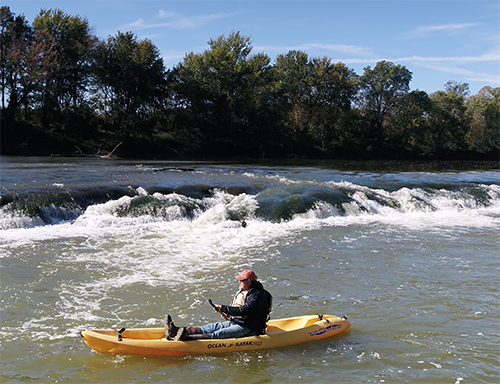 My name is Steve Chafin, the owner of Pathfinder Outfitters.  I grew up in southern Indiana near Lake Monroe, Hoosier National Forest, Yellowwood State Forest, and Morgan Monroe State Forest. I had woods and creeks right out my back door, and explored them thoroughly.  My father was an avid outdoorsman, and had a boat rental on Lake Monroe when the lake first opened in 1968.  So, every day in the summer when Dad and I picked up boats, I got to fish Lake Monroe.  I was hooked. I loved the outdoors. At age 13 I bought my first canoe. It was a 15′ aluminum battleship.  Then, my first vehicle was a 1964 Jeep CJ5. There were no trails or streams unexplored in southern Indiana by me with that Jeep and my canoe. 
This love for the outdoors led me to a career in the environmental science and engineering field where I spent 10 years working as a consultant on lake and river restoration projects and solving environmental problems of all types.  After 10 years of that, in 1999, I started a business called Eco-Systems, Inc. that specializes in the actual hands on restoration of lakes, ponds, streams, wetlands, native prairie restorations, forests, as well as wildlife habitat enhancement, storm water quality control, and erosion control. You can check out my other business website at soilandwater.com
In the course of this work I found my self working for the federal government as a contractor on projects in Florida, Wyoming, Montana, Arizona, and New Mexico, however, southern Indiana remained home base.
In September 2007, I took an excursion with a good friend and colleague to SW Wyoming to "bird hunt and and fly fish" for a couple of weeks.  These were our stated objectives.  However, my main objective was to search out a vision for how I could best bless people with my gifts and talents.  My new mission was to enable individuals and groups of people to experience the best of water based adventure and wildlife encounters in Indiana and beyond. Recently, we have added water based outfitting in the NW New Mexico Area for visitors to the Four Corners Region.  It's a fascinating place with quality experiences.
Making folks happy, makes me happy.  I love to make people smile.  And I can best do so by doing what I do best, and sharing my love of adventure in wild places.  I love for my customers to come back from their adventure refreshed, renewed, and having dropped off stress baggage along the way.
So choose Pathfinder Outfitters for life changing adventure experiences. You will not be disappointed.
Call me at 812-340-0700 or email at [email protected]
Let's Go!
Steve