Backstreams of Lake Monroe

Lake Monroe is Indiana's largest lake with over 10,750 surface areas of reservoir. This does not include the fantastic Salt Creek upstream and downstream of the lake. NF Salt Creek upstream of Lake Monroe provides wild backwater paddling with low current, fantastic fishing and abundant wildlife. All of this within 20 minutes of Bloomington or 20 minutes from Brown County State Park.
This is arguably, the best wild backwaters in Indiana for wildlife viewing. There is a bald eagle nest along the NF of Salt Creek, and the eagles will generally pose for a photo op. Our trips here range from a minimum of 4 hours to overnight trips to paddle from the Monroe County line to the Pine Grove launch ramp at Lake Monroe. Longer trips of 6 hours or more are encouraged so you can see more of the backwaters of Lake Monroe.s

North Fork Salt Creek from Friendship Landing to Pine Grove Landing

The North Fork of Salt Creek winds between Monroe and Brown Counties and through Yellowwood State Forest, Morgan Monroe State Forest. This trip features good fishing, nesting bald eagles and oppertunities for wildlife photography on a relaxing voyage. Trips from 3.5 to 5 hours. This is the most convenient trip to Brown County State Park and Bloomington.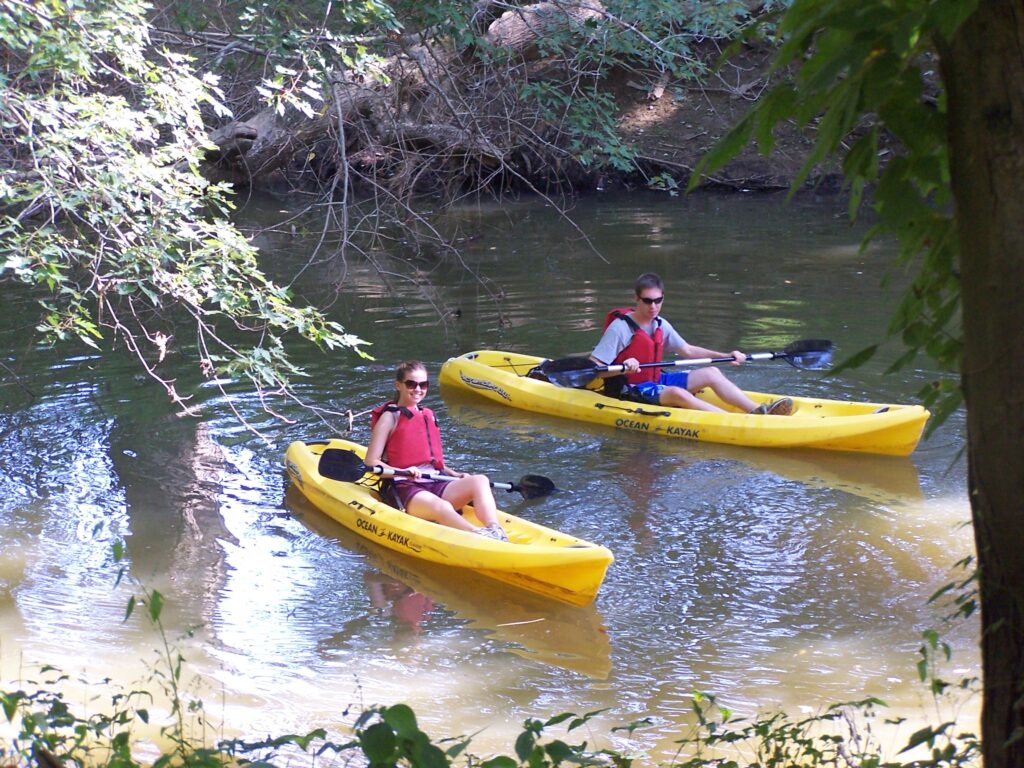 ***Ratings are based on a scale of 1 to 3
Challenge Level: 2
Duration: 3.5 – 4 hours
Wilderness Experience: 1-3
Age Suitability: Any age (preschool – senior)

Solo: $50
Tandem: $90
Old Town Fishing Kayak: $80
Shuttle Only: $55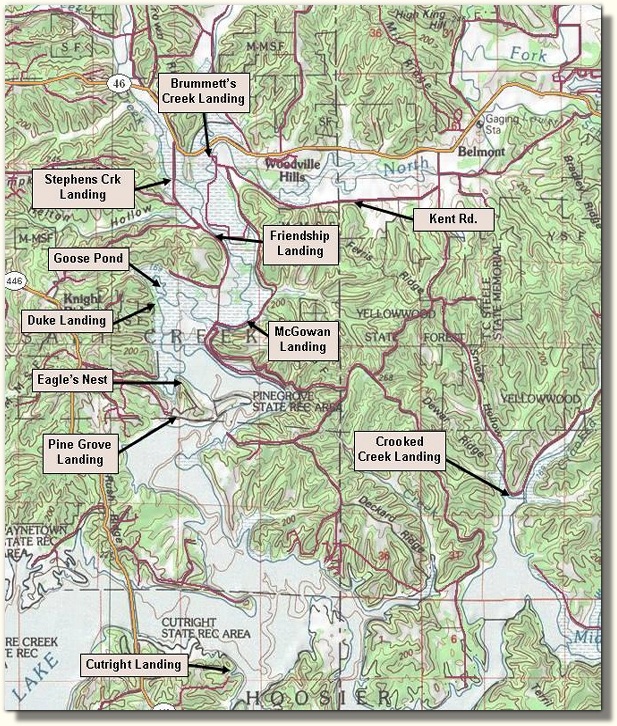 Upper North Salt Creek
Between Brown County State Park in Nashville, Indiana and the Monroe County line at Kent Road Landing is the Upper North Fork of Salt Creek. This trip is only possible in the early season, as past the first of July it is too low to navigate.
The upper reaches are relatively swift from Nashville to Dubois Ridge Bridge in Yellowwood State Forest. There are log jams to portage on this stretch. From Dubois Ridge Bridge downstream the creek meanders through bottomland picking up Jackson Creek discharging from the Yellowwood Lake and Schooner Creek, before going through Belmont and on to the North Fork Waterfowl Resting Area, then into Lake Monroe.
Due to the seasonality of the water flows this trip can only be done April through mid-June and by appointment only.
Brown County State Park Covered Bridge to Nashville Landing
Challenge Level: 2
Duration: 3 hours
Wilderness Experience: 1
Age Suitability: 8 years and up

Solo: $55
Shuttle Only: $40

Nashville Landing to Green Valley Landing
Challenge Level: 2
Duration: 3 hours
Wilderness Experience: 2
Age Suitability: 8 years and up

Solo: $55
Shuttle Only: $40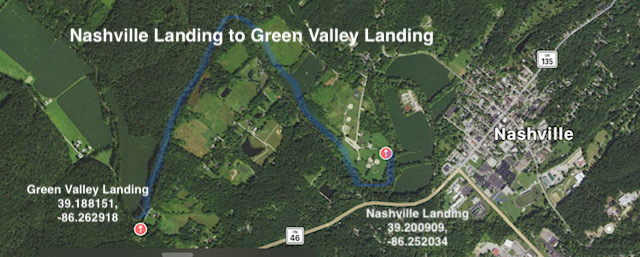 Green Valley Landing to Dubois Ridge Landing
Challenge Level: 3
Duration: 3 hours
Wilderness Experience: 2
Age Suitability: 10 years and up

Solo: $60
Shuttle Only: $40