Lower Salt Creek – Below Monroe Dam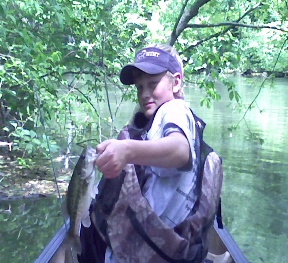 This is the "cool" trip because cold water is being released from the bottom of Lake Monroe in the summer. In the summer it feels like the air conditioning is on. The average trip length is 4 hours to the Peerless Road Bridge. A pair of bald eagles has been nesting about 4 miles downstream of the dam for several years now. They generally make themselves available for photos as you silently glide beneath them.
The fishery includes Kentucky spotted bass, sauger, walleye, wipers, sunfish, crappies, white bass, yellow bass, and catfish. Something is always biting in lower Salt Creek.
This trip is only feasible when the Lake Monroe Dam is realeasing 400+ CFS of discharge.
Dam to Peerless Road Bridge
Challenge Level:
Duration: 4 hours
Wilderness Experience:
Age Suitability: 14 and up
$75 per Solo
$50 for shuttle only